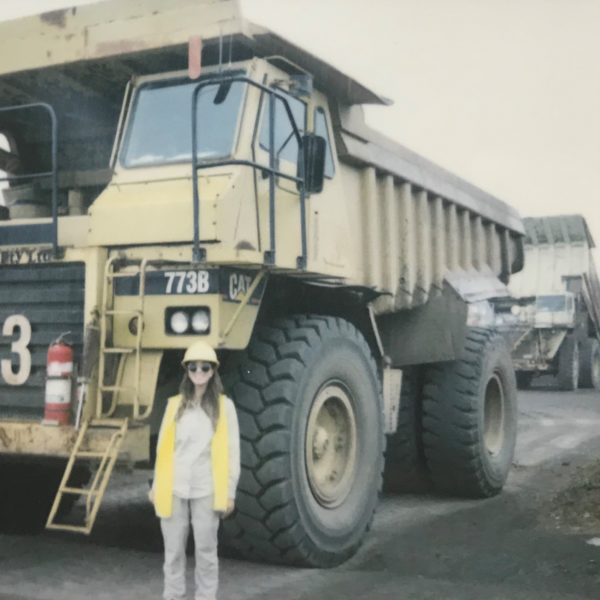 Employed as a Dump Truck driver within a month
ANOTHER SUCCESSFUL STUDENT OF OURS WHO SCORED A JOB WITHIN ONE MONTH OF TRAINING
Meet Claire, a young female, fresh out of university, bored with office work who decided to seek a career in the mining industry.
Claire researched training in the mines, completed her training with My Solution Training, and was employed within ONE MONTH as a dump truck operator.
Read Claire's interview below.
What age bracket are you in?    
18-35
 Q – What made you decide to get into mining?
I had been interested in the mining industry since high school. I knew there was good money available. My dad worked in the mines when he was young to fund his travels so when I graduated from my degree with very little savings, it seemed like a good time to pursue a mining job.
 Q – Why did you decide to be a dump truck operator?
I thought it would be something I would be capable of doing. I figured if everyone else can do it, why not me? I also got very bored in office jobs and thought I might find driving a more interesting job.
 Q – What were you doing for work before this?
I was at university studying graphic design.
 Q – Why did you decide to do training before trying to get a job?
I had called up the company I now work for and asked about jobs. They said that if I completed a mining training course they would be more likely to be able to hire me.
Q – Why did you choose My Solution Training?
From what I had seen online, My Solution Training seemed like a legitimate business and I was happy with the bundle where I could complete the S11 course, water truck training and dump truck driver training as well as receive a professional resume for the mines which was definitely worthwhile. The industry appropriate wording on the resume I could never have created myself.
Q – What did you think of your training?
I really enjoyed the training! I was very nervous going into it. I wasn't sure if I was throwing away my money, but it was very thorough and interesting and now being in the industry I have absolutely no regrets about the training.
I have really been thrown in the deep end and there are some things that I learned from the training that no one has explained to me on the job!
I think I would have been completely overwhelmed and confused if I hadn't done the training.
Q – What did you think of your trainers?
My trainer was amazing. He made things interesting, very clear and was very calm; everything you want in a trainer. Their own personal insight from their career was invaluable.
Q – You got a resume professionally done by us, were you happy with it?
Yes absolutely. I had a resume but it was not suited for the mining industry at all. When I received my resume, the wording and technical terms included made me realise my own resume would never have been up to the job.
Q – What steps did you take to get a job? Where did you look?
I applied for lots of jobs online via seek, Workpac etc. but the job I ended up getting was with a smaller (still quite big but smaller in comparison to BIG mining companies) construction company that does a lot of work on mine sites. Currently we are building a tailings dam. I simply called them up, sent through my resume and luckily enough, they were happy to take me on as a trainee.
Q – How long did it take you to get a job?
It took me around a month.
Q – What happened when you first got to site, did you have to do inductions etc?
I did two days of full on inductions both with the actual mine and with the construction company. This was all paperwork and presentations.
Q – Did they provide a trainer for you the first time you got into one of their trucks?
I spent half a day driving around in a four wheel drive with the supervisor just getting my bearings with the site,
then I spent a few days sitting as a passenger with a trainer. After this I got to get behind the wheel supervised
for a few days and after about a week in I was by myself.
Q – Were you nervous?
I was very nervous the second day as it really hit me that I was doing this! But after I got in the truck I felt a lot more comfortable. It's always interesting being in your own truck having to problem solve.
Q – What swings / hours are you doing?
I work three weeks on, seven days a week, 10.5 hour shifts (only day) and then I have one week off. I would have probably preferred two weeks on one week off, the three weeks is a lot, but beggars can't be choosers and the pay is good.
**Once you have a couple of swings/shifts completed, you can then start applying for experienced roles so we suggest that you take any role offered to you to get into the industry**
 Q – Did they provide your PPE?
The only uniform I had to buy was safety boots, pants and a few spare shirts. All other PPE was included.
Q – Do you have to get yourself to site?
It's BIBO so we live in town and catch the bus to and from work. It takes around half an hour.
 Q – What is your mine accommodation like?
They provided accommodation in the local hotel which was not incredibly comfortable so I found other accommodation. If you do find other accommodation then they provide a living allowance which is more than enough!
**Please note that all mines are different. Most QLD/WA mines offer camp accommodation and food is included with this. NSW do not offer a lot of accommodation as they require you to live within 80-100kms of site**
Q – Is there anything else that you think it would be good to tell someone who is just starting out in the industry that you would have liked to have known?
For young women it's a great industry but be prepared for what you're getting yourself into.
It definitely comes with its challenges and if you aren't comfortable with boys locker room talk then you might find it uncomfortable but overall, I have found it very rewarding.
I would recommend keeping your goals insight as to why you're out there, because it can be tough work if you aren't working towards something like travel or a house deposit.
The money definitely has made it worthwhile for me and I much prefer being out in the field than stuck in an office!