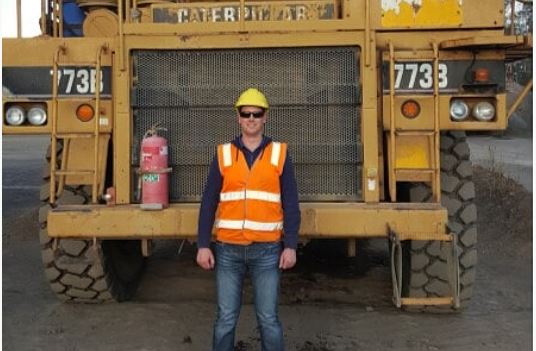 From Sales to Mining – Ian's Story
What made you decide to get into mining? – My brother had worked in the industry for quite a few years and I had always liked the idea of getting into the industry myself plus the money is really good and I really enjoy this type of work, it is such an adventure!!
Why did you decide to be a dump truck operator? – I used to drive smaller trucks professionally years ago and really enjoyed it, there's nothing like operating those big machines, the bigger the better, I love it!!!
What were you doing for work before this? – I was working for a company in a sales oriented role and had been in that industry for the past 15 to 16 years and really needed a change of scenery!!
Why did you decide to do training before trying to get a job? – I really wanted to give myself the best possible chance of getting into the industry so after doing some research on what was required to obtain a role I figured this was the most viable solution to giving me every possible chance of landing that dream role.
Why did you choose My Solution for training? – My Solution are close to where I live and had the best reputation, and after going through they certainly didn't disappoint!!
What did you think of your training? – I was so impressed by the depth of the material that was covered and the way it was delivered so that it was easy to take in and retain.
What did you think of your trainers? – The trainers were very friendly, helpful, knowledgeable, and always on hand to assist to ensure that you got the best out what you were learning and able to succeed.
You got a resume professionally done by us, were you happy with it? – I was extremely happy with both the Resume and the Cover Letter!! I've said it before and I'll say it again, if it wasn't for the amazing Resume and Cover letter that was professionally done by Michelle, I don't think that I would have landed a role!!
What steps did you take to get a job? Where did you look? – I immediately started to sign up to recruiters and mining sites by sending through my resume online or via email. I also signed up with all the job sites and set notifications for what I was looking for.
How long did it take you to get a job? – It took me 6 days to land a role over in WA after completing my training.
What happened when you first got to site, did you have to do inductions etc? – I had to do an online induction before arriving to the mine site that I was working at which was quite lengthy, it took 11 odd hours in total and had 20 components. When I arrived at site for the first time I also had to do a small induction for the company that I am working directly for and also had to complete VOC's for the machines that I would be operating, then I was right to go.
Did they provide a trainer for you the first time you got into one of their trucks? – Yes, I had one of the other operators with me but only for a couple of hours in the morning and after seeing how well I could operate the truck, I was sent out on my own and have been ever since, the operator commented that it was pretty clear that I had operated Dump Trucks previously because I had no troubles!!
Were you nervous? – I was probably more excited than nervous because it wasn't that long ago that I had done my training and I was keen to get back in the truck, I just wanted to make a good impression more then anything.
What swings / hours are you doing? – I am doing 2 weeks on 1 week off, 12 hours per day, day shift only.
Did they provide your PPE? – I had to purchase my own Hi Vis shirts and pants and work boots as they are a small company and after three months of continuous employment will provide you with company branded work cloths. They also provided the hard hat, safety glasses, and ear plugs.
Do you have to get yourself to site? – I have to pay to get myself to and from Perth and they cover me to and from Perth to site.
What is your accommodation like? – The accommodation is a bit old but comfortable, you have everything you need including free WiFi throughout the entire camp.
Related Tags:
Truck Driver Training
Truck Driver License