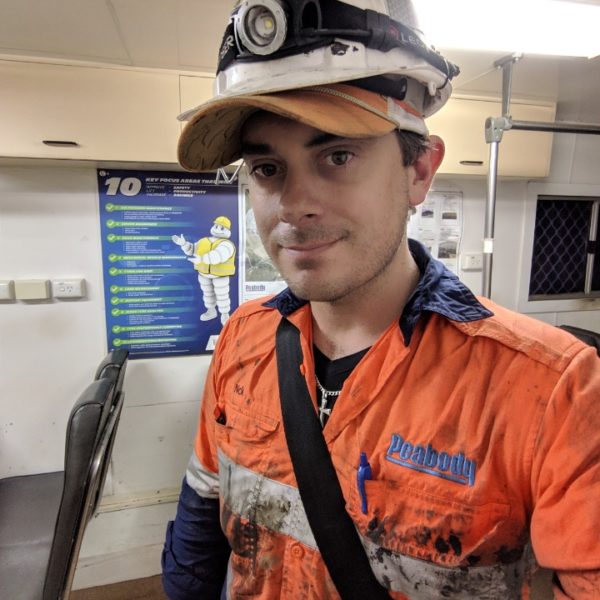 EMPLOYED IN 2 WEEKS
Meet Nick – Nick came to us with some machinery experience and a positive attitude!!
Nick completed the Dump Truck course, the Water Truck and the S11 Induction. He got a professional resume from us, listened to our advice on how and where to look for work and within a couple of weeks had a job.
Here is a list of questions that we asked him and his response to each one:-
What age bracket are you in? 18-35    36–50     51-65
I am 36
What made you decide to get into mining?
Healthy salaries, opportunity to learn on the world's biggest equipment, the rosters suit my lifestyle
Why did you decide to be a dump truck operator?
I had prior experience with civil trucks and earthmoving and wanted to get on trucks capable of payloads that boggles your mind compared to road going body trucks and semis.
What were you doing for work before this?
Earthmoving and Civil
Why did you decide to do training before trying to get a job?
Training prepares you for the environment that you will be in. It's like anything in life, without the training at the start, you set yourself up to fail.
Why did you choose My Solution for training?
Simple. The people I talked too. Adrian and Michelle were the reason. Their experience and knowledge without the rubbish of marketing made it a simple decision
What did you think of your training?
The training gave me the entry level tools to become competent and confident. It made the transition from training to onsite far easier than I could have hoped.
What did you think of your trainers?
The trainers were loaded with experience. And that counts. All the little questions I had along the way were answered, all the subtle little mistakes I made they picked up on. This is real training for the real world.
You got a resume professionally done by us, were you happy with it?
Yes, not only did I get work very quickly, I still use it, which landed me in my current company.
What steps did you take to get a job? Where did you look?
I basically applied with labour hire companies to start with. Stellar and One key resources in particular. I was pretty aggressive, I made calls, really pushed my CV then landed a phone interview. A few days later I was offered a role.
How long did it take you to get a job?
Not long, 2 weeks roughly. I know of people similar to me who get an offer in 2 days. Having the CV was an asset to myself, no doubt.
What happened when you first got to site, did you have to do inductions etc?
It was structured. You get emailed all the information you need before you go to site. This covers rosters, accommodation, who to contact and more.
Yes I did more inductions that are more site specific. This is mandatory for any person regardless if they have never been on a particular site.
Did they provide a trainer for you the first time you got into one of their trucks?
Yes. In general, the trainers on site will make sure you are competent before you head off alone. Every situation will be different. I sat in with a trainer for 1 week before being allowed to go alone.
Were you nervous?
No, I was extremely pleased.
What swings / hours are you doing?
I currently do 1 week on, 1 week off, 12 hour days, 6am to 6pm
Did they provide your PPE?
Yes, I was provided everything. Boots, pants, shirts, coats,  helmet, helmet light, gloves, safety glasses and more
Do you have to get yourself to site?
No, I have to get myself to camp, but from camp to site we catch a bus, similar to a greyhound size bus.
What is your accommodation like?
Every site is different, but never bad. Air conditioning, heating, good showers, decent food makes life after work very easy. You get your own room and shower, no communal set up. Some camps have pools and more.
What is the food like?
I was lucky enough to go to boarding school, which I use as a guide. It's the same as that. Or if you have stayed in a hotel, it's similar. The selection is always huge. There is literally everything for everyone. Each night you can personally order fish, steak or chicken if that's what suits. Usually there are healthy lunches pre packed. In my opinion, the food is quite good.
Do they have a gym?
Yes, it's quite good as well. And open 24 hours.
Is there anything else that you think it would be good to tell someone who is just starting out in the industry that you would have liked to have known?
Listen to the trainers when you do the training course. Even just casual conversation with them will enable you to learn so much more. They will give it to you straight, but there to make sure you succeed.
Never, ever be afraid to ask a question, no matter if you think it's the most silliest thing ever.
Understand that mines run 24/7. There is some life events that you could miss out on. But if you organise yourself and request leave early for events you don't want to miss, you will be fine.
On site, it's simple, make sure you adhere to their rules.
It's a very rewarding career, and you will meet some real characters. You will face challenges no doubt but stick it out and shortly thereafter you will be fine.