David's story and answers to questions we asked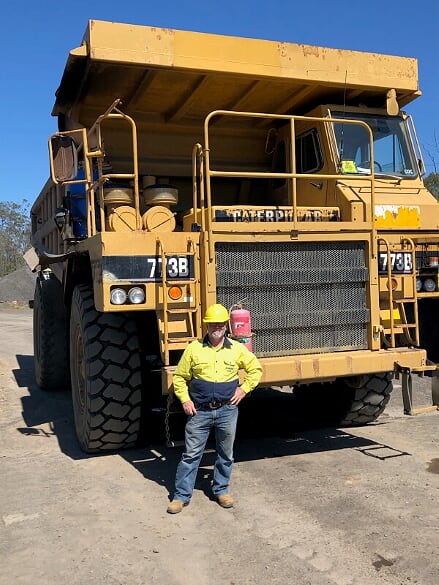 Hi Michelle
Just wanted to say thanks and share my experience with you.
Back at the start of February I started work with a winning services company that contracts to a large iron ore mine in the Pilbara. Having been there for a number of month now I often reflect on just how good the overall experience was at My Solution Training. The people were absolutely fantastic. Not only was I well prepared to start as a trainee dump truck driver, I was well prepared for life in the mine camp and to present in a manner that was going to help me transition into my new career.
I think this is largely due to the experience of the people you have conducting the training, they helped me realise that fitting into the FIFO lifestyle was as important as my ability to perform the role.
There are 2 other people that have started at the site I work at that trained with MST as well and my observation is that they have made a good transition as well. We all started with no winning experience and having trained at the same place it has given us a good connection.
It did take me a while and a lot of applications before I actually received an offer of  employment. I did at times question whether I would get an offer or not. Having been through the experience now I understand that the support and advice that I received from you was invaluable and sticking to your guide was what ultimately gave me success.
As you suggested in the end I was  just applying for everything and in many cases multiple times. I set up profiles with all the mines, labour hire and contract service providers that I could find. I had a routine where I would get up early go through the email alerts and spend an hour or two every morning just applying for jobs. I did have a couple of personal consultants call me and in a a nice way they were telling me not to waste my time applying for jobs that required experience. Fortunately I did not let that put me off and I persisted.  I remembered you telling me that the people who didn't get jobs it was because they gave up too soon and didn't stick to the plan.
Any way it was in the ten days before Christmas that I received a call from a large mining services contractor for a phone interview for one of their subsidary companies. The guide you had given me for the interview process proved invaluable, I was well prepared for most of the questions that I was asked and very shortly after the phone interview I was offered a job subject to passing a medical.
As you suggested right at the beginning I was more likely to get a job applying directly to the employer rather than a labour hire firm or a personal consultant. It makes sense, why would an employer pay someone to find an employee with no experience!
Any way thanks again for the great advice and the support throughout the process.
HERE ARE SOME QUESTIONS WE ASKED AND THE ANSWERS:-
1. What age are you ?   

59
2. What made you decide to get into mining? 

My sister in-law was doing an MST (My Solution Training) course. I had always been interested but didn't really know how to get into it. I had seen how it had changed life for a friends family from as security and choice point of view and the drought effected economy in our region meant i had to make some sort of a change and I thought this could make a real difference.
3. Why did you decide to be a dump truck operator? 

Just loved the notion of driving a big truck and there seemed to be plenty of job ads

.
4. What were you doing for work before this? 

Wholesale beer sales for small rural craft brewery.
5. Why did you decide to do training before trying to get a job? 

Just seemed like a no brainer. Once I decided to make the change I wanted to do everything I could to make it happen as quickly as possible. When you look at the cost compared to what you can earn it pays for itself in a couple of weeks. i also think it gave me confidence to know that even though I was starting as a trainee I was starting ahead of the game

.
6. Why did you choose My Solution for training?

Could not find another course on the East coast where I got the opportunity to actually drive the trucks, I had somewhere to stay in Brisbane and doing the water cart, dump truck standard 11

t

ogether represented good value.
7. What did you think of your training? 

Excellent
8. What did you think of your trainers? 

Very knowledgeable, good communicators and prepared to share a lot of their experiences

.
9. You got a resume professionally done by Resume Righters, the Company we suggest. Were you happy with it? Y

es very, had good positive feedback from prospective employers as well.
10. What steps did you take to get a job? Where did you look? 

Pretty much followed your plan and treated the process like a job. Most mornings I started at between 5.00am and 5.30 am and worked at job hunting for an hour or 2. For me this was a not negotiable every morning. Looked in all the places your guide suggested and believed that if I persisted eventually I would be successful. 
11. How long did it take you to get a job? 

About 3 months
12. What happened when you first got to site, did you have to do inductions etc? 

Yes, about 4 days worth, It was tedious and boring and about the only stage that I doubted my decision to get into the mining industry
13. Did they provide a trainer for you the first time you got into one of their trucks? 

I sat in with a number of other drivers for about 3 days, then I drove with other experienced drivers in the truck with me for about 4 days before I was VOC'd in the Komatsu, then I drove by myself.
14. Were you nervous? 

No – not really
15. What swings / hours are you doing?

2 weeks on / 1 week off – 12.5 hour days/nights
16. Did they provide your PPE? 

Yes
17. Do you have to get yourself to site? 

I fly myself to Perth from Melbourne and then I fly directly to the Roy Hill mine in a Roy Hill charter flight

.
18. What is your accommodation like? 

Basic but good

.
19. What is the food like? 

Its OK. A bit up and down depending on which cooks are working, but overall its fine.
20. Do they have a gym? 

Yes, and a pool, and other organised sporting activities, and a bar
21. Is there anything else that you think it would be good to tell someone who is just starting out in the industry that you would have liked to have known? 

I think My Solution Training prepared me really well. The whole induction process was tedious and we had a lot of gaps with nothing to do which made the time really drag. Too much time to think. I probably got a bit home sick in those early stages. I could have prepared myself better.